Getting the most out of Smartphone Forensic Exams –
SANS Advanced Smartphone Forensics Poster Release
There is one certain thing in the DFIR field, and that is that there are far more facts, details and artifacts to remember than can easily be retained in any forensic examiner's brain. SANS has produced an incredibly helpful array of Posters and Cheat Sheets for DFIR in order to assist examiners with those tidbits of information than can help to jumpstart their forensics exams and or intrusion and incident response investigations. The most recent addition to the SANS DFIR poster collection is the Advanced Smartphone Forensics Poster, created by SANS FOR585 authors Heather Mahalik, Domenica Crognale, and Cindy Murphy.
These days, digital forensic investigations often rely on data extracted from smartphones, tablets and other mobile devices. Smartphones are the most personal computing device associated to any user, and therefore often provide the most relevant data per gigabyte examined in an investigation. The Advanced Smartphone Forensics Poster will guide you through the elements of the mobile forensic process so that the results of your examination will hold up under scrutiny.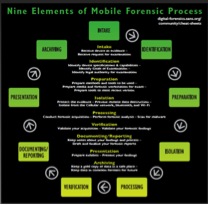 The acquisition of Smartphone evidence can be complicated by the large assortment of device makes, models, and operating systems, with varying levels of acquisition support. The Smartphone Acquisition guide included in the poster will guide you through the intricacies of acquiring data from locked and unlocked phones for the major Smartphone platforms.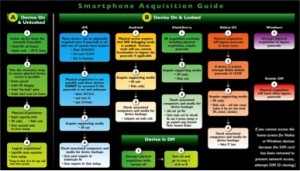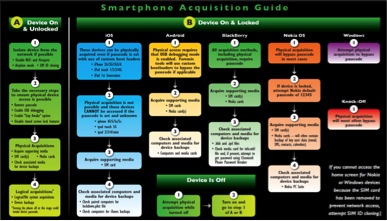 Once data is acquired, interpretation of that data can involve complexities such as data encryption and encoding, and relics of flash memory storage. The Advanced Smartphone Forensics Poster will help you to work through the basics of flash memory data layout, and various types of data encryption and encoding common to Smartphone data to help you get the most out of the acquired evidence.
Commercial tools have a difficult standard to live up to in regards to data decoding and don't fully address the challenges of mobile malware detection and analysis.  With all of the apps available, it's nearly impossible to automate the process of decoding all of the relevant data. The Advanced Smartphone Forensics poster will help walk you through the basic steps of mobile malware detection and analysis, and provides you with common evidence locations for the major smartphone platforms to help you narrow down and efficiently identify data that is important to your investigation.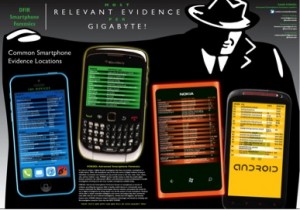 Use this poster as a handy reference guide to help you remember how to handle smartphones, where to obtain actionable intelligence, and how to recover and analyze data on the latest smartphones and tablets. Whether you're new to smartphone forensics or you're an experienced examiner, the SANS Advanced Smartphone Forensics Poster will help you get the most relevant evidence per gigabyte.
Click to access for585-poster.pdf
Cindy Murphy, SANS Instructor and Co-Author of FOR585